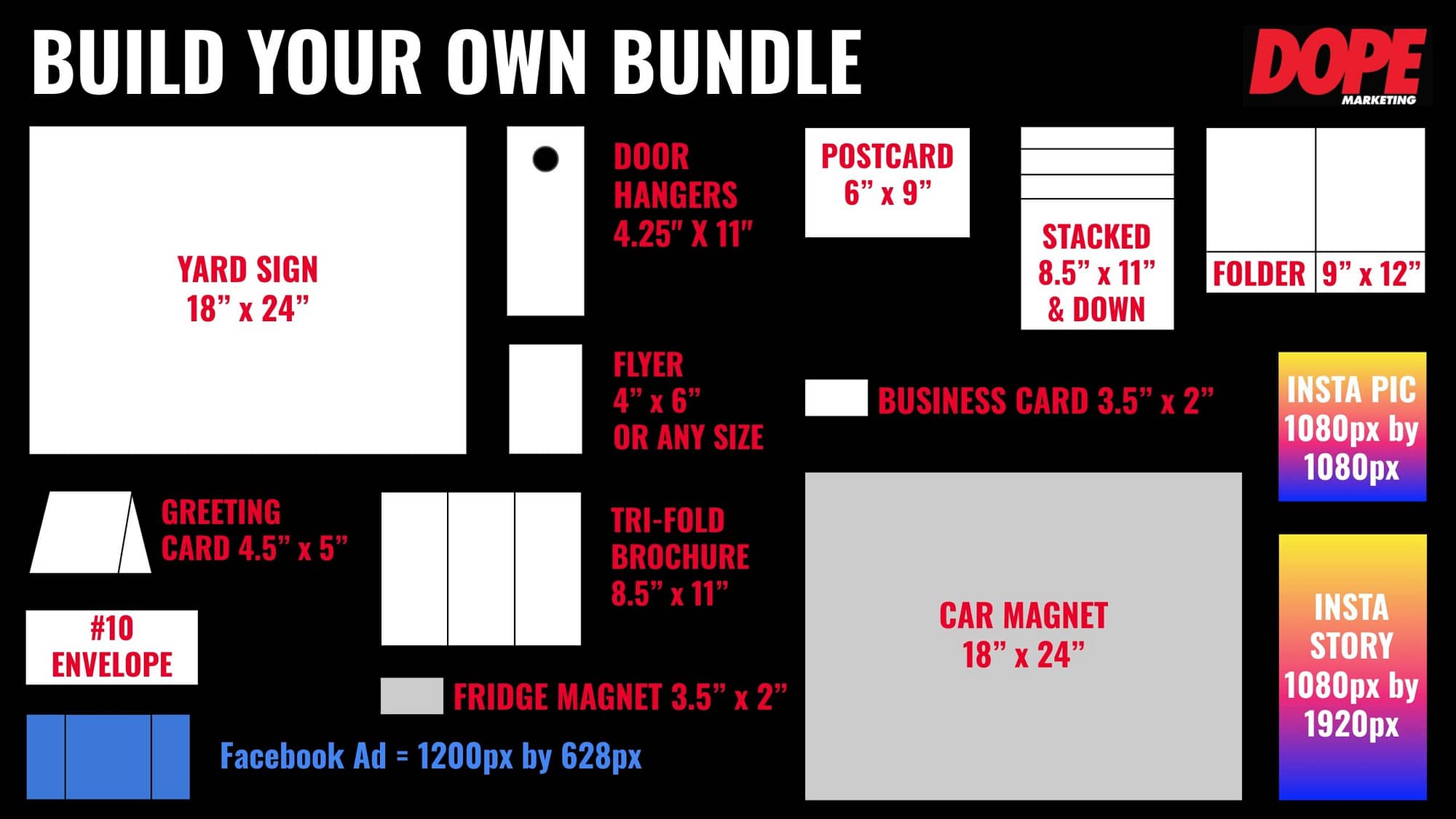 Make your business memorable with Business Bundles. Pick the products that you want to use and we will make them work better than a three-part harmony. Business bundles keep your brand and messaging consistent across your marketing channels.  Plan out your marketing for the year and we will design, print, and deliver a consistent image. Be memorable. Get DOOR HANGERS, BUSINESS CARDS, and YARD SIGNS in order to increase their overall impact. Pick out your favorite marketing pieces and let's build your bundle.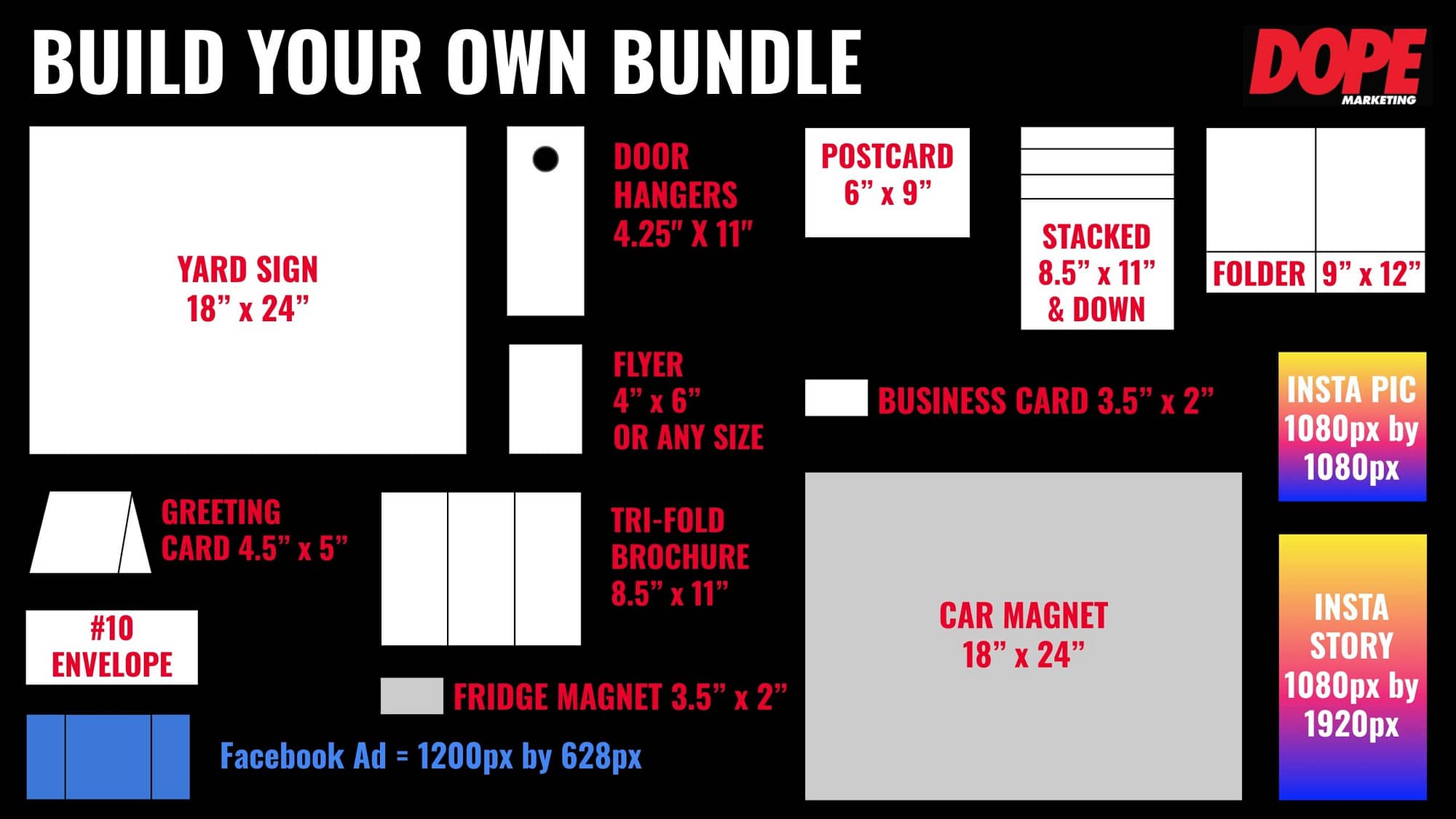 ROI goes up for every dollar spent when a prospect is shown your marketing in multiple ways. Could you ignore a company that sent you a postcard, left you a door hanger, was all over your Facebook feed, and also had a yard sign on your street? Probably not.
Make your marketing consistent across all of your channels. Gone are the days of trying to make your Yards Signs, Postcards and Business Cards look consistent dealing with multiple vendors. DOPE does it all.
Schedule your entire marketing for the season or even the whole year and we can build a custom bundle just for you.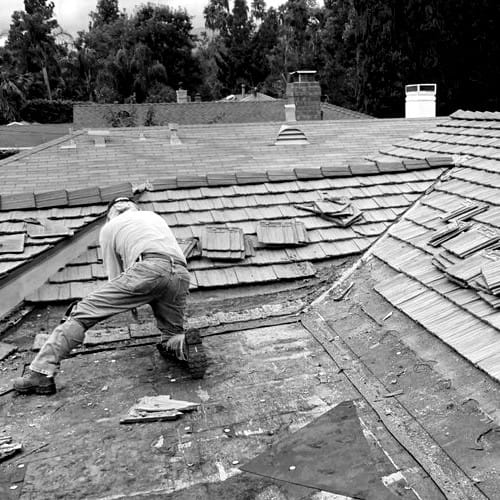 I doubled my business in one season by purchasing a NEW MOVER BLITZ with DOPE MARKETING. It was actually easy. We added holiday lighting to our services and ran the blitz to all the new people in the neighborhood because none of them had chosen a holiday lighting contractor yet. BONUS: Once the season was over, we had 25 new customers to market the rest of our regular services to.
I killed my competitors by scooping up most of the roof damage inspection leads after a hail storm recently because I had my campaign ready to go with the Ringless Voicemail all ready recorded and the Postcard already designed, it got sent out the day after the storm to the marketing list I bought for the affected area! It was great, I closed more leads than usual because they saw my postcard AND heard my voice. They felt like they knew me!
H., MARTINEZ, DALLAS METRO AREA
Frustrated and need a free call to complete your order?
Our coaches are standing by!